**Once upon a time I wrote a series of articles for ministry wives based on common topics of email questions I receive.  These articles were first published at Christian Women Online but I am reposting them here for those of you who may find them helpful.  I would love to hear some fresh conversation on these subjects!**
An anonymous sister asked,
"Few people realize the dilemma of a pastor's wife. Her husband is the ONLY preacher/pastor that she ever has! This is great, if he is a good preacher, but what if he is not that great a preacher?  Is she doomed to  spiritual starvation and boredom as she sits through his sermons each week?"
By asking if she is "doomed to spiritual starvation and boredom," I am assuming this pastor's wife is looking for permission to attend another church where she perceives she will be neither spiritually hungry nor bored. I find no biblical support for making this move.
Let's turn the tables on this one. Let's say you love to cook and find great joy in preparing meals for your family. Imagine now that your husband informs you that his mother's cooking is much better than your own and, in order to satisfy his hunger with the best food, he will start eating supper at her home every night.
It's tempting to respond with, "YES! It's pizza tonight, kids!"  However, before you do, truly consider what his decision would do to you as a woman. Personally, I would be devastated to think I had really tried and my husband chose the better meatloaf at the expense of my dignity. I believe this is the same concept as leaving your husband's church for another just to find "a better meal."
Two phrases stuck out to me in the initial question:  spiritual starvation and boredom. I think there are ways we can avoid either without taking the drastic measure of seeking nourishment outside the family.
1.  Go to church full. Early in Luke's ministry, he and I served in a church that did not have the greatest of preachers.  He was an excellent pastor, but his teaching skills were lacking.  I remember clearly Luke and I concluding that God was preparing us for servant leadership by getting us used to feeding ourselves instead of expecting someone else to do it for us.  Luke has stated many times over the years that a Christian will never survive on one thirty-minute sermon per week.  The purpose of Sunday worship is to come in to God's house overflowing with what He has revealed to us through a week's worth of personal study and prayer.  If we come in starving, we will still leave with a growling belly.
2.  Don't force your husband into a role he isn't meant to fill. As much as I love Luke and his teaching, his sermons are not the meat of my Christian walk.  I love to hear him expose a passage for my deeper understanding and discipleship but he is not God to me, nor does he seek to be.  If I seek spiritual fulfillment based only on how effectively he demonstrates his calling, then yes, I will always be disappointed and perhaps even bored.  However, our joy as pastor's wives should be found in upholding our husbands' ministries while exercising our personal gifts.
3.  Be honest about your reasons for not following your husband. I read several forums in preparation to write this article and it's obvious there are many reasons pastor's wives choose not to attend their husband's church. The most common scenario is a woman being deeply attached to a congregation where she was a member before her husband was called to minister.  Because of her long history and love for that body, she is hesitant to depart.
To this Scripture only says one thing:  Leave and cleave.  (Genesis 2:24)  Your place  is by your husband.  Period.
Another reason is the wife not believing her husband is truly 'called' to ministry and that he is perhaps pursuing it in vain ambition.  Also noted is that she knows that her husband is not the man he proclaims to be in the pulpit and she refuses to reinforce the lie.
These situations are tough at best. The Bible does not call us to submit to ungodliness.  Honestly, I think the answer to this question is as varied as the individual circumstance.  If marital strife, deceit, or heaven forbid, abuse, has you feeling you can't sit in the same church body as your husband, then my advice is to seek godly Christian counseling to determine the next step.  There are many low-cost or free resources available.  The Parsonage (www.parsonage.org) is a ministry of James Dobson's Focus on the Family and is a great resource I recommend to find support for the pastor's family.
I believe with all my heart God's desire for the minister includes his entire family worshipping in one body.  If you find yourself feeling empty, consider beginning a women's Bible study group.  You may just find that the measures you take to curb your own spiritual appetite will serve to feed others as well.  That is true ministry and I promise, once embraced it will be the great thrill of your Christian life.  In fact, I'd be willing to bet you'll forget all about your husband's lackluster sermons when you are pouring it out into the girls God has entrusted to your care.
Even if the man behind the pulpit happens to be your husband, ultimately, God is your pastor.  I can't think of another person more supremely qualified to lead you into righteousness than Him!
|

This past weekend I had the delight of serving the precious women of our Alabama SBC churches at the state's Equip Conference.  Equip is a great time to connect with old friends, make new ones and get some fantastic, practical training and encouragement for church ministry.   It is sponsored by the Women's Missionary Union (for those of you who know the lingo, WMU) whose leaders I count it a privilege to call friends. (I'm looking at you Candace, Pat, Becky, et al)
My workshop material was born out of the last year of my life where I've increasingly found myself with no time for Want To's (ministry, writing, studying, church service, etc.) because I'm so bound up with Have To's (job, cleaning, laundry, more laundry and did I mention cleaning?)  All of our lists may have different particulars but the effect is the same – very little apparent time (we learned we have more time than we think) to feed the part of our soul that longs to be truly connected to God, our families and friends,  and His people.  This in turn can leave us us feeling a  disappointed and maybe even grieved that life doesn't look like what we envisioned for this season of our time on planet Earth.
I won't rehash all the teaching but I did want to share a thought that was somewhat profound to me in dealing with the reality of having to be in certain environments or doing certain activities that don't line up with where or what or with whom I would ideally be spending my efforts and hours.
I've been dwelling on the idea of displacement.  Specifically I referenced the prophet Daniel who was living at ease in Israel when his people were overtaken by Babylon and deported to that country. He was appointed to three years of brainwashing which gratefully never took because he was a man of much more resolve than I ever hope to own.  Daniel had a window in his upper room that faced Jerusalem (his true kingdom) and he never lost focus on the true reason he was in Babylon – to make God's name great to a nation of self-indulgent people who bowed to golden statue fashioned as a mere man.  To eunuchs with no family of their own charged with caring for four teenage boys that would not defile themselves with the king's table. To a king whose boast turned him to beast.   To a new king who couldn't understand the handwriting on the wall.   To co-workers who maligned him and had him unfairly punished because of bitterness and jealousy.
Daniel never played the martyr or lost sight of the fact that his displacement was simply the means by which God transported a faithful man to proclaim His Name to an unreached people.  I think about our missionaries serving in places all over the globe – many of them connecting with individuals through jobs that seem unrelated to Jesus.  But they were not sent to get wrapped up in daily stresses of being great medical personnel or English teachers or other civilian pursuits.  The job is not the reason they are there….the people are. The work was simply the vehicle that delivered Jesus into their midst.
That simplistic thought may mean nothing to you but it was a game-changer for me.  What if I began living a displaced life?  Thinking displaced thoughts?  This past year has in no way lined up with my fairytale delusions about what activities would characterize my days or what life and ministry would look like right now.  Though I enjoy my job and adore my co-workers, being in a workplace has felt like a huge Have To until I realized any place He puts me can be a Want To if I realize where I am has nothing to do with the job but everything to do with Him.
Since the handwriting has been translated, He is teaching me to look beyond the daily office grind and not just see a job that consists of doing what I have to do but seeing people  I want to serve who are looking for grace and peace and love and understanding and encouragement and Jesus in a place they least expect to find Him.
Just a peek through Daniel's window and suddenly the Kingdom is much clearer.
I hope you can see it, too.
|

Over the past few months Sam has taken up fishing. Sam is not unlike his mother in that when he decides to take up a new hobby he is all in.  The difference between him and me is that I tend to fizzle when I get bored but if he loves something he is invested, smitten, sold out for life even. This is why we discourage girlfriends and pets.  The more you show your affection the more likely they are to throw themselves into the highway.  The pets, not the girls.   So the fact he is angling for fish and not women is a good thing. For the women, not the fish.  (Shall we call this post a primer on misplaced modifiers?)  And I should clarify I've never gotten bored with Luke and he hasn't yet thrown himself into the highway.  But there are moments just like this one I do not have one clue why not.  Not one.
While I was working the other day Luke called to tell me Sam caught a 10 lb. bass.  Ten pounds doesn't seem that significant until you've gained it and can't button your pants so I was completely aware this was a major accomplishment.   They tell the story better (and bigger) but my version will have to do.  The guys had already packed up for the day and Luke was fussing at Sam to leave.  "One more cast, Dad!" and Sam threw Luke's line out before he got an answer because he is a forgiveness rather than permission kind of boy.  He was goofing off and reeling in much faster than usual when BOOM, something hit his frog.  Sam knew it was big but Luke didn't believe him until he had it pulled almost to the bank.  By this time the pole was doubled over so being the darling daddy Luke is he jumped into the pond and cradled the fish like it was the newborn Baby Cambridge and carried it to shore before it had a chance to break the line.  It was a messy delivery but dad and son are both doing fine.
I made the guys come see me so we could chronicle the moment:
Dad and Son.  And Baby Fish.  The mom in me wants to make him put that nasty thing down and wash his hands.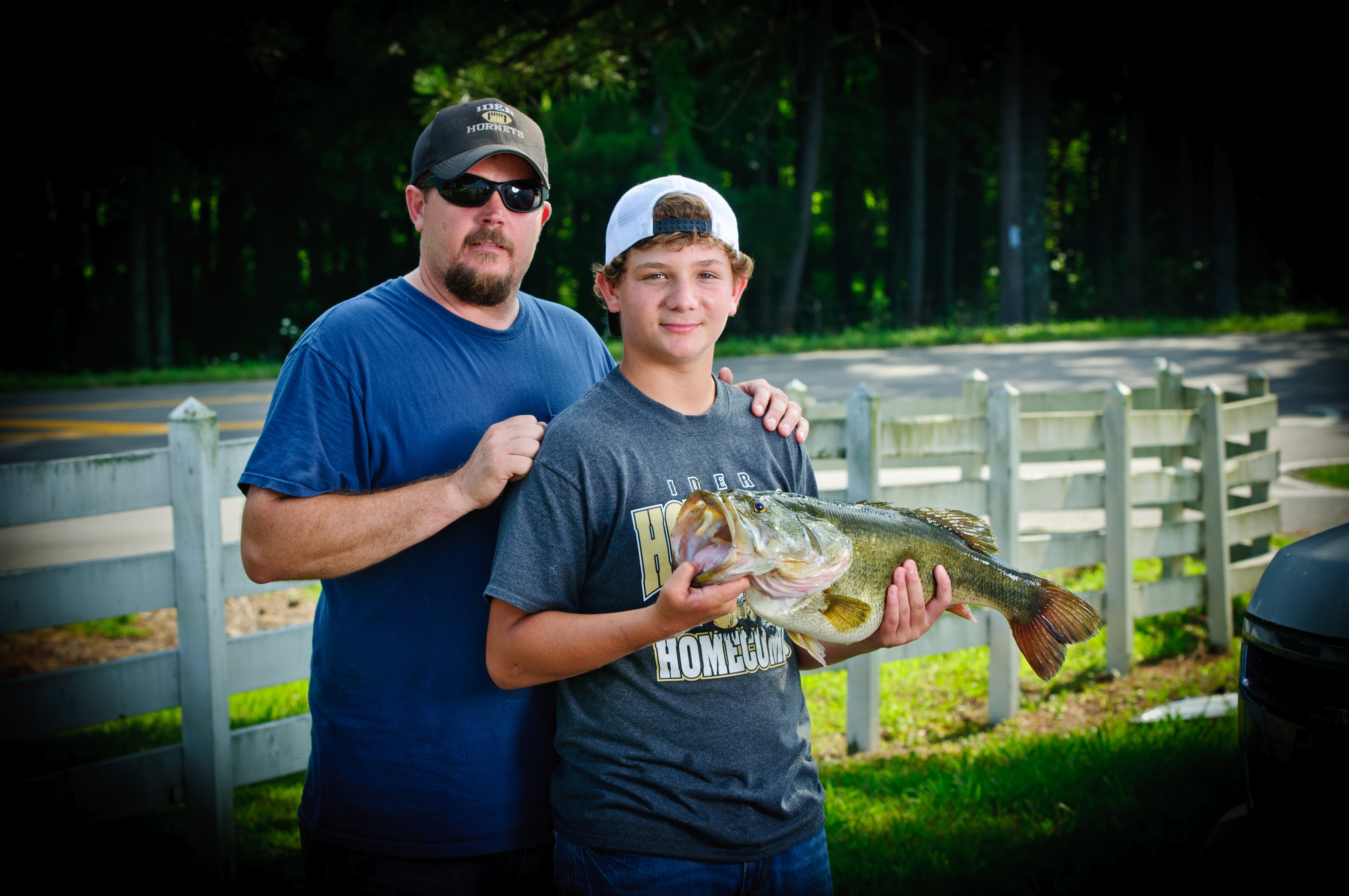 I love this sweet face.  The boy, not the fish. Sam was so excited but I also can't help but notice the desperation in the fish's eyes.  It was still a little alive and, well, EWWW.  Please do not touch me.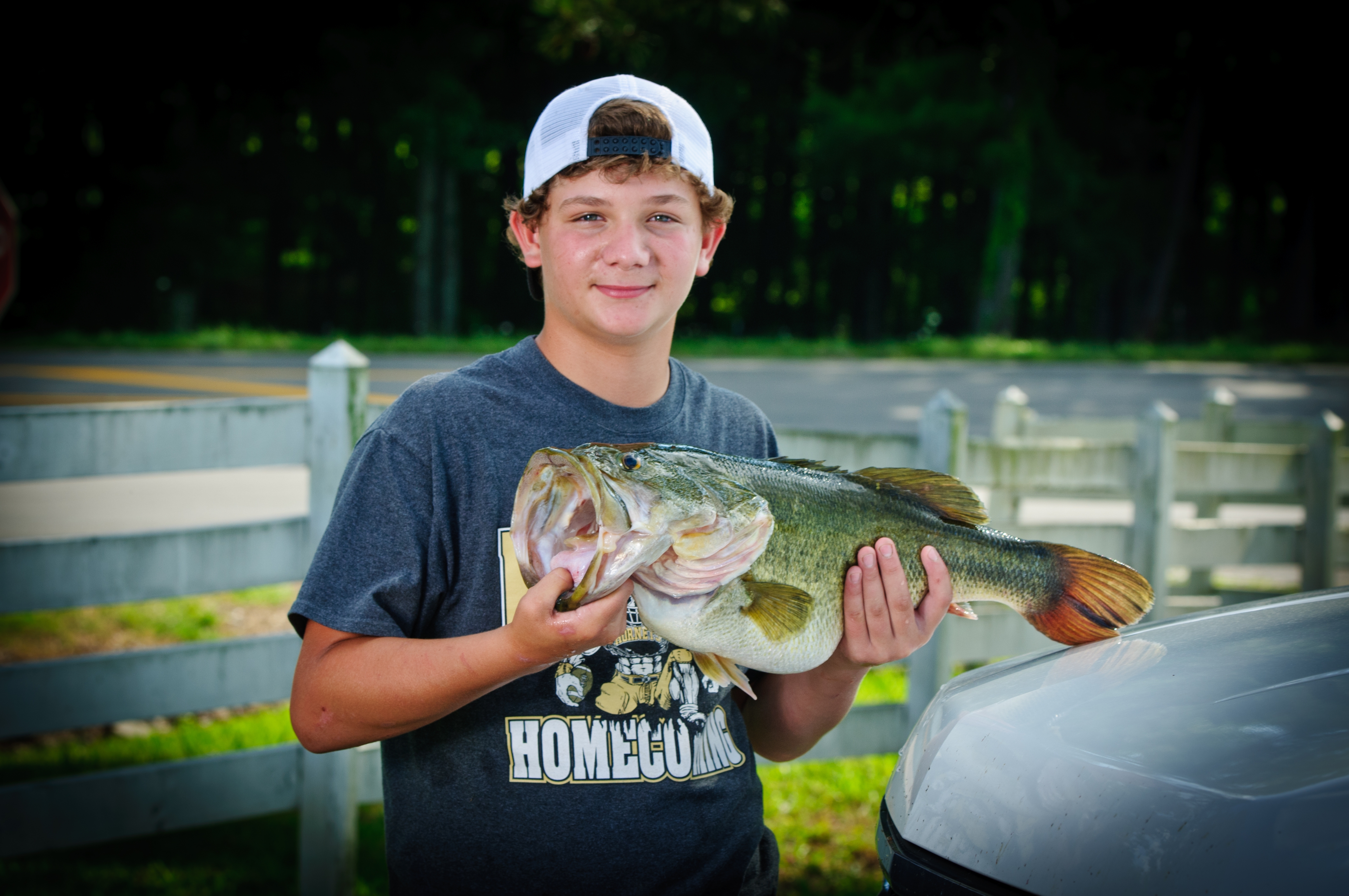 The guys jumped in the truck and went straight to the taxidermist who, by the way, is not yet finished with Sam's first 5 lb'er that he caught a few weeks back.  His birthday is in October.  In lieu of cards, you can mail a payment straight to the Fish Guy or drop off a sack of groceries to those of us who are starving while others are embalming food to mount in my den.
And yes, I did agree to let one be hung in the family room wall.  How could I resist when Luke actually used the word "eclectic" in a sentence when he told me how awesome it would look?  However, I'm fearful we are moving right on past eclecticness straight into Marine Inspired.  I draw the line at two fish.  With two I can hang them with some sense of symmetry somewhat secluded on either side of the bookcases.  I'm pretty sure three will mess with the energy of the room  if by no other way than grossing me out when I see those desperate eyes following me while I'm trying to watch Revolution. (September 25!)
I think it's time Sam gets a girlfriend.
|