April 7th, 2014 is the 24th anniversary of the day Luke and I said, "I do."  It is just ridiculous to believe that many years have passed considering he and I had just started dating as his parents were about to celebrate their own 25th year together.  So basically, they were the age we are now as they planned a party to celebrate what seemed an impossible milestone in a life together.  And yet, here we sit on opposite sofas in a home God gave us enjoying the simplicity of Sunday's postlude after serving a church that was no where on our radar when we walked the red-carpeted aisle and promised each other our forever's.
The marriage that began in unchartered waters now has the safety of much exploration.  Because of this there are some things I can now count on as known points on the map.  Our lives are rich with friends but if that were not the case and every person on this earth failed me, this one would not.  Luke is steady.  To some a certain amount of predictability may translate "boring". To me it spells faithful, trustworthy, and true.  Aside from God, this man is north to me when I feel confused, lost, and vulnerable.  He is an amazing father who teaches me daily what it looks like to be a student of our children and to learn their ways so we can love them and connect best to their unique personalities.  He is a selfless pastor whose mind is on the people he serves day and night.  He is a friend to the friendless and takes the time to see straight into the hearts of people who stopped believing long ago they deserved to have anyone care that deeply.
I am one of those people.
I do not know what I did to merit a love like that.  The more I think of it, my marriage is grace.  God knew what I needed, who I needed, and gave him to me as protector, provider, and friend.  I am humbled for the privilege of being a helpmate to him.
I love you, Luke McKay.  Here's to 24 more.
(And maybe one of these years we will get to make that trip out Route 66.  Or Jerusalem.  Surprise me.)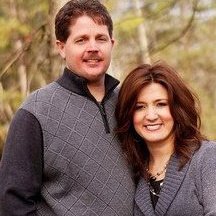 |

Well, this past week I've been working on a post filled with much seriousness and intrigue entitled, "The Not So Mysterious Will of God".  I am convinced we make this process much harder than God ever intended.  The epicness of the content is debatable but the length is not. Because this topic had come up in a teaching I did recently and also in three separate conversations with people I love I felt somewhat compelled to just write the thing out for whomever may find some biblical principals and thoughts on discerning God's plan for our lives needful.
The writing was about 3/4′s complete when Luke (not at all aware of the teaching or the conversations or the typing)  announced to me in the bathroom a couple of mornings ago that he had been leaning toward teaching on the subject one Sunday morning sooner than later. So, dang.  Because we share the same brain, 24 years of marriage, and 98% of our theology I've decided to put that post on the backburner so I won't steal his sermon thunder when it arrives at a theater near you.  I'm anxious to hear what he has to say and then perhaps present a McKay Mashup for all who will be perched on seat's edge and biting your nails to the quick in anticipation.
So  instead of discerning the will of God I will tell you about Sydney's science project a.k.a. which kid's parent can bring the best Pinterest experiment to life and somehow convince the teacher the kid actually had something to do with said creation.
This is where I give props to great friends. By virtue of having so many children we don't know what to do, Luke and I are often at the mercy of other loving adults to somehow help us get them raised.  Such is the case with Syd's friend Abby whose parents, Todd and Amy, are life-long friends of ours from Georgia who ended up moving to our same tiny town.  They either a) missed us so much they followed along or b) found a great deal on a farm.  Either way, I am so grateful they remain in our dailiness and don't seem to mind being surrogates for Syd.
With that said, Abby and Syd decided they wanted to be submit a joint project for the Science Fair.  I signed the permission form with the condition that this would be HER responsibility and not another Mom Competition like the solar system or Colonial houses of the past.  She agreed and told me she and Abby already knew exactly what they were going to do.  I was optimistic until she explained their idea had something to do with giving Abby's horse various feed to see which made it healthier.
Maybe I'm skeptical, but the science on that one seemed a little subjective if they were counting on the shininess of the horse's coat to be the main indicator.  And if we wanted to get objective, well, horse poop would be involved to which I say, nay. There are some things in this life that I just will not be manipulated to do. The Facebook Coldwater Challenge would be one of those.  Digging is horse dung for some evidence of vigor and vitality would be the other.
So the girls regrouped and decided on nice, predictable self-inflating balloons.  Todd and Amy took Syd home with them so they could get the experiment done and documented. Unfortunately, it was a beautiful day and I'm pretty confident the girls weren't exactly as focused on the task at hand as they were the Call of the Wild.  Amy texted me about her love of science projects and of the diligence our children were showing in getting the job done.  I texted her back that I was perfectly fine with her applying her love to my child's backside if she needed a little motivator to finish.  All was rainbows and unicorns again when the girls were turned loose to ride horses and roam pastures.
Then came my turn for the next work party to put the presentation together.  The girls would have been perfectly happy to slap the white paper on the board and call it a day.  For the love.  Where did I get a girl with no appreciation for coordinated scrapbook papers?  Where did I get a girl who is content to cut paper with a straight line when we have all manner of decorative-edged scissors to give it extra pizazz?  I presented all the fabulous options to the girls and do you want to know what they said?  "Flowers, stripes, and polka dots have no place in Science."  Clearly, they have been blinded by it.
Since there was no compromise in sight I pointed my scalloped scissors at them both and ordered them to cut and tape each piece exactly as directed.  Being a dictator is exhausting but it completed the work.  I opened the door, set the captives free, and texted Amy a picture of the masterpiece: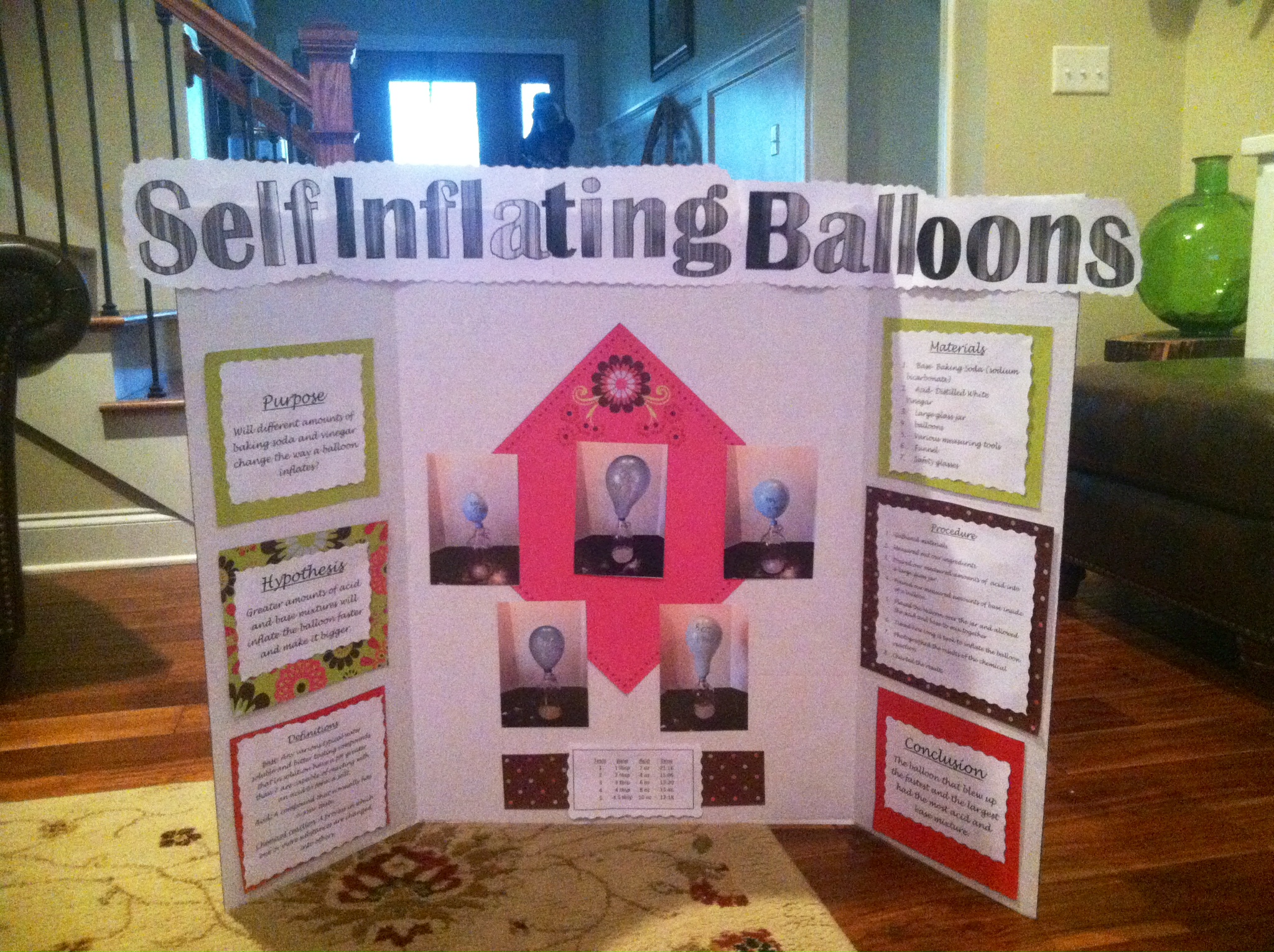 She replied with this: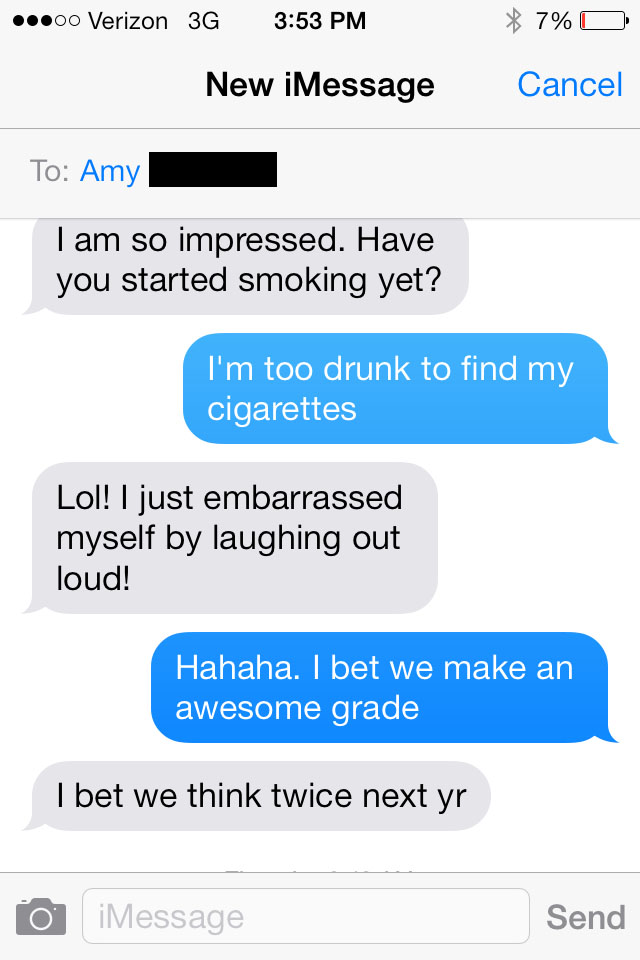 So the project is safely submitted and the Fair is Monday night.  That is when I get to stroll the aisles and compare my parenting skills to the other moms who took time to cover their white presentation boards with colored paper or –  the ultimate – used glitter which may have no place in science but certainly has one deep in my heart.  The pressure is just too much.
To reiterate the wisdom of Amy, I really will think twice before agreeing to a project next year.
It doesn't take rocket science to discern that is God's Will for me.

|

This past weekend I had the delight of teaching a retreat for the ridiculously adorable women of North Shelby Baptist.  Their fearless leader, Sonja, contacted me a few months back and among other things told me the event would be held at The Summit and wondered if by some chance I may have heard of it.  It just so happens The Summit is 20 minutes from my house so BOOM.  After praying for 4.7 seconds I said yes and hoped for the next several months they wouldn't change their minds. About me, not the retreat.
And how do I properly recap the weekend considering this is the only photo I took the entire time?  I like to call this one, "Girl drives up to pretty gate and pushes lots of buttons hoping for some magic because UNSOPHISTICATED.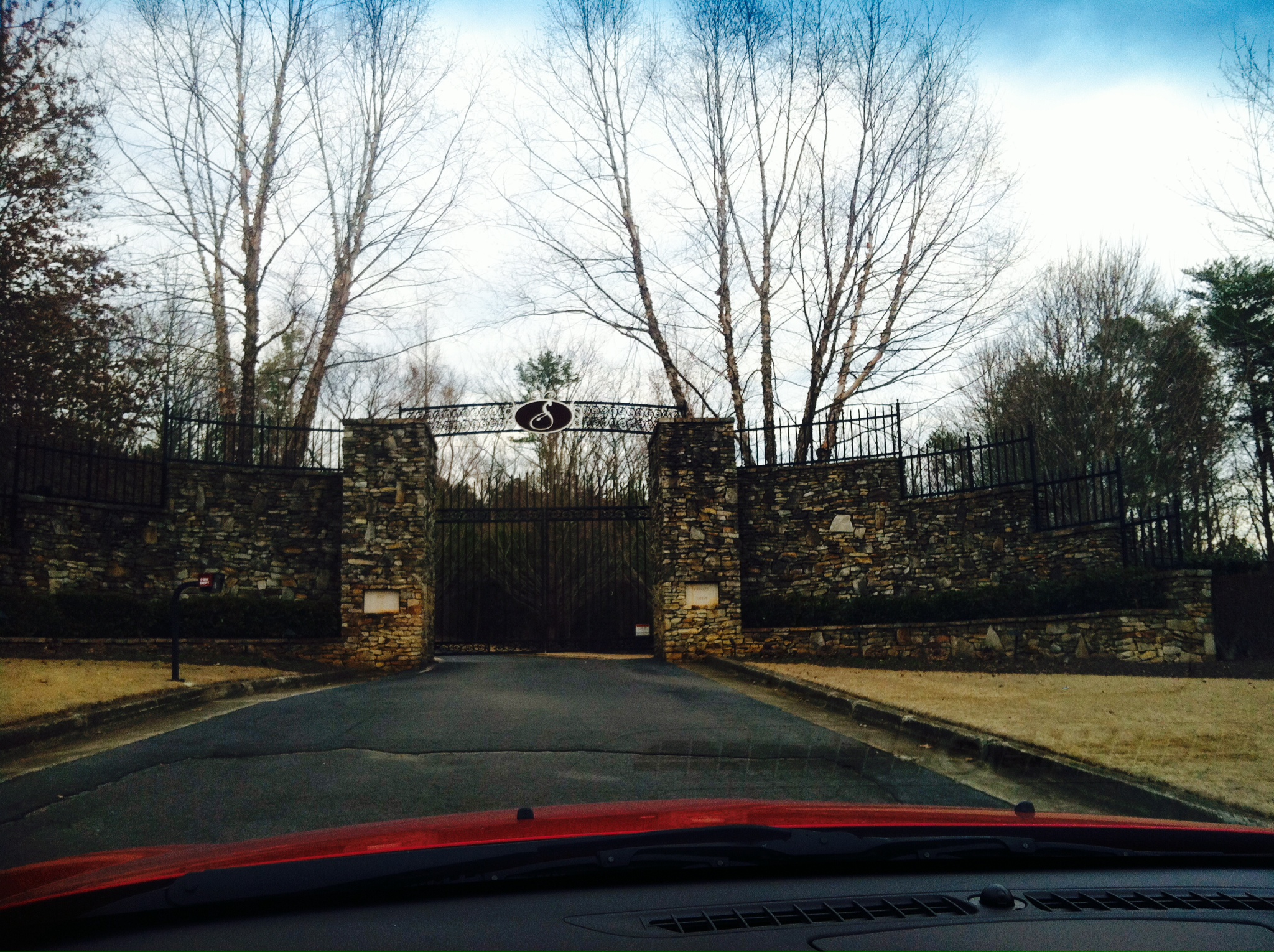 With an entrance like this you know there is nothing but awesomeness on the other side.  The Summit is an estate previously owned by Teddy Gentry of the country music group Alabama.  LifeShape (a ministry arm of Chic-Fil-A) purchased the property and has turned it into a leadership retreat center.  Every detail is luxurious and yet completely cozy, the chef-prepared food is decadent, and the surroundings serene.  The perfect setting for giggling with your favorite girlfriends and hearing that still small voice when all grows quiet.
Speaking of girlfriends, I am so happy to have so many new ones.  Each group I have the privilege of serving has something special that sticks out about them.  These girls excelled on many points.
First, Sonja.  It was apparent from day one she was seeking the Lord on behalf of her women and would settle for nothing less than a perfect weekend for them.  The details were spot on and that doesn't happen accidentally.  Well done, friend. No wonder they love you so.
Secondly, door prizes.  Oh MY word.  I have never.  Every woman present went home with a gift and I don't mean a bottle of lotion or a notepad.  Megan and Team completely outdid themselves in gathering the goods.  I am not exaggerating one bit when I say the crowd ooh'd and aah'd every single treasure.  I scored a lovely hand-painted canvas that is now proudly displayed in my family room.  Best door prize ever.
And music.  DeeJay Kelcei is my new favorite forever.  At the end of one of the worship videos an impromptu obituary photo flashed across the screen.  The room grew quiet and I got really uncomfortable for poor Kelcei. Was this her dad?  A beloved uncle?  Would she grow sad at the reminder of her loss?  Imagine the relief to learn the tribute was for Rich Mullins that was tacked on to the end of that particular YouTube video.  Rest in Peace, Rich.  We are grateful for your lyrical stylings and are so glad to now know what you look like.  And that you are not, in fact, Kelcei's dad.
Girls, thank you so much for opening your hearts wide and welcoming me inside.  You are forever in mine!

|