A couple of weeks ago our church began a new Bible study called Run for God that couples spiritual endurance-themed devotions with training for a 5 K which we will run together in April.  The response has been overwhelming and in our tiny town our group looks like this: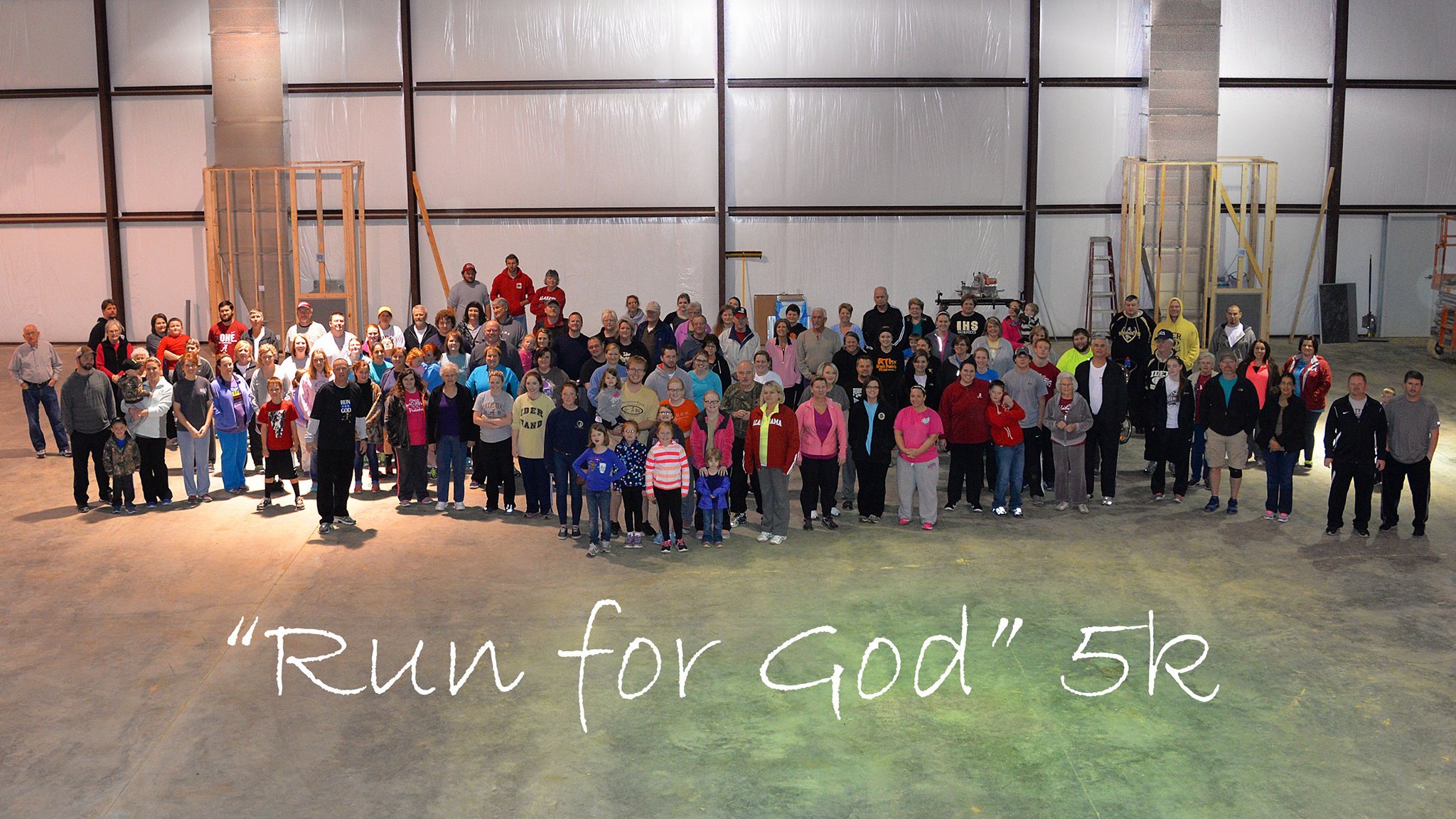 It is a given this picture delights me.  It represents young and old, church members and community members, and those whose bodies hurt and don't hurt.  The former outnumbers the latter if our groaned laps are any indication.  I hear a splinter cell Bible study is being formed called, "Eating Cheez-Its for Jesus".  It has legs.  Flabby, cellulite-ridden legs but I'm becoming more and more comfortable with those because, y'all. My shins are ruined.  It's my fault for running in bad shoes on concrete for the first week.  Luke's knees are also a wreck so you can't even imagine the whining that is going on especially on Saturday mornings when we meet to train at 7:30 a.m.
Luke and I are also trying to eat a little more healthy during this process.  How's that going?  On our way home from running last night he said, "Pull in at the store so I can get some ice cream. Ummm, not to eat.  To put my knee in."  So we soaked our knees in butter pecan and chocolate syrup and felt instantly better.
But here's the thing, you can't be a big baby when an 85-year-old woman is not only showing up for the Bible Study but running.  Mrs. Green has always been an inspiration to all of us for many reasons but it is confirmed now that she is the stuff of legend. We have developed a code word for whiners, "I.G."  which are Mrs. Green's initials.  So basically, take your ibuprofen and suck it up because if I.G. can do it, so can we.
Which is the point of this entire experience for me thus far.  We are better together.  We do things in community we can never accomplish alone.  We bear one another's burdens, share our ankle braces and compression socks, spur each other on when we want to quit, and run the race set before us shoulder to shoulder.
Church together is a beautiful thing, shin splints and all.
(I love you, IBC. Can't imagine the race with anyone but you.)
|

The first of December I took a new position in a workplace that I am loving very much.  Ironically, there is nothing church-related about it unless you keep in mind that Jesus ministered in the midst of people doing their daily business.  He moved in and out of the places where women drew water, boys ate fish for lunch, and men tended to fields and flock.  Here He used metaphor and mercy to teach people about Himself and the Kingdom to come.  Though there are no verses that say, "Jesus smiled", I am convinced His personality was winsome, His eyes kind, and doggone it – people liked Him.
This is the part where I make a confession.  Almost 3 years ago when I joined the traditional workforce it felt like the death to some dreams.  In my naivete I believed real ministry was over and that I had joined the masses of Workplace Believers that lived predictable, robotic lives without opportunity to see God do the amazing things that He could only perform through those who sat at their dining room table blogging and teaching women's events.
I was wrong.
I have earned a gigantic respect for the workplace faithful because it is among the common where the work of ministry is being done.  I've personally gathered with my own co-workers to intercede for our company and for one another in times of heartache, illness, and tragedy.   I can just imagine those of you who do the same either through something as overt as corporate prayer or as inconspicuous as encouraging your sister with a troubled marriage to give it one more chance because you did and saw your own relationship restored.  This is the Kingdom Come.
I have also learned it was somewhat easy to display a gentle spirit when I spent the majority of the day with either a) myself or b) people who stopped by the church when I spent time there working with Luke.  But, get yourself into an office or a hospital or a school where stress runs high and tempers flare and you will quickly find out that not only are there people who can really push your well-disguised buttons but that somewhere along the way you have become one gigantic button.   Work is the hardest place in the world not necessarily to be nice but to stay that way.    I've destroyed my credibility to witness in situations because I decided it was more important to be right than righteous.  Believer, it matters if people like you.  How can they believe God is love if His people are jerks?  That doesn't mean we are mealy-mouthed doormats but one of the purpose statements of my new company says it best this way, "You can disagree without being disagreeable."
I say these things to you because of the value of the experience of these past few years and how I have grown to cherish what I thought was me giving up.  May I encourage you as well?  Your work is worthwhile, your presence needful, your place is on purpose.  If seeking other employment ask yourself, "Is it the environment that needs to change or is it me?" Don't shortcut the lessons God would teach about ourselves if we only walked the thing to it's completion.  I know this because I've done this.  I did end up making a move but He didn't create the opportunity until I was content to remain.
Let those who encounter you at the hallowed ground about the water cooler find refreshment because they did. This is the place where God will do the miraculous one conversation at a time through you…. the Work Place Believer.
|

Yesterday I taught at a women's event where the precious coordinator, Shannon, asked me if I had a biography to help her introduce me.  I'm totally fine with, "Hey, this is Lisa.." and let 'er rip, tater chip.  But some people operate a little more efficiently than I and so I directed her to the "About" page on my website.
That's when I realized I have not published on this blog since September 11, left a somewhat depressing last entry, and have not updated any "About" information in literally years.  Embarrassing.
If I were to have a title to last night's message it would be something like, "Staging a Come Back".  The gist had to do with renewal in our spiritual lives so that we aren't living with our "glory days" behind us when relationship with God and vibrancy were at their peak.  As I told the women there, you don't get a lesson from me unless it has first been directed at me.  The past couple of years have been ones of great transition.  Writing as well as public ministry has taken a backseat to the more private focus of the people in the four walls of my home.  I am now a part of the traditional workforce and I realize how spoiled I was for a very long time to be at home with my nose in a book and the zeal to then share thoughts and strings of words to those kind enough to read and talk back.  I've never gotten over missing the writing and missing you.
One of the points I shared last night is that sometimes our Come Backs are not necessarily to the same areas of calling that seem to have dwindled.  Sometimes they are a Call To sing a new song that God puts in our mouth based on our current experience.  One of the great joys of my past few months has been taking on the challenge of teaching our College/Career class at church.  These kids in their late teens/early 20's who are continuing education and finding workplaces of their own obligate me to faithfulness in the call when I want to use the 'I'm too busy' cop out.  Lest you think that is a terrible thing to say, we would all do so well as to position ourselves so that we have no option but to keep using the gift with which we have been entrusted even when we don't feel like it.  If you ever stop doing it, you will stop wanting to do it. And then it will be all the more difficult to ever want or do again. The lie we have bought in the midst of busy lives is that numbing our mind is restorative.  Numb your mind, and your heart will follow. And thus, we have churches full of passion-less people who are content with looking over the photo albums of their Times of Greatness and not even daring to hope those could come again.
Don't misunderstand… I'm not talking about personal greatness.  I'm talking about those times when Christ has been most evident in us, His Glory most revealed, and those people within your homes and circles of influence the most affected.  You know those times of which I speak.  I wonder if there be any among you who needs a Come Back of her own?
I am not a fan of the New Year's Resolution but I do like a start date.  A line in the sand that says I will not carry the baggage of back there with me over here.  So that's more or less where I am in this moment.  Realizing that I need to do some things in order to want to do them again.  Stephen King described doing-until-you-feel-it best in his book, "On Writing":
 "At the start of the road back I just tried to believe the people who said that things would get better if I gave them time to do so.  And I never stopped writing. Some of the stuff that came out was tentative and flat but at least it was there.  I buried those unhappy, lackluster pages in the bottom drawer of my desk and got on to the next project.  Little by little I found the beat again, and after that I found the joy again.  I came back to my family with gratitude and back to my work with relief – I came back to it the way folks come back to a summer cottage after a long winter, checking first to make sure nothing had been stolen or broken during the cold season.  Nothing had been. It was still all there, still all whole. Once the pipes were thawed out and the electricity turned back on, everything worked fine. "
For all of us, the gifts remain.  We just have to decide we are weary of the winter and muster the courage to turn on the lights and get on with it.  Finding the beat again sounds nice but knowing the Source of the Joy sounds even better.  It is my prayer for my own 2015.
I pray it for you too.
p.s.   Next, I may even work on updating my "About" page.    Not because I must but because I want to.
|