Hey Sisters!
I hope this Monday finds you enjoying the crisp fall breeze that we are enjoying here in North Alabama.  It is a balmy, not as humidified as usual 80 degrees which in my estimation is the absolute perfect temperature.  Not hot enough to bring on a full on sweat and yet not so cold that you are at a loss if you forgot to grab a jacket. 
I hit the ground running today after returning from a fabulous weekend with my new girlfriends from Town East Baptist Church in San Antonio, TX.  I had the great thrill of being bible teacher for their annual retreat which was held at T Bar M Ranch in New Braunfels.  Hands down one of the nicest conference centers ever.  Food was fabulous, rooms and grounds immaculate.  I highly recommend.  The only thing I don't recommend is texting a friend back home that you are at T Bar M without adding any explanation.  Since Alabamians don't understand ranch/brand talk, she might think you are at a *bar* and get really concerned about your emotional and spiritual state of being.
I can't say enough to thank Town East PW, Donna, and her girls for loving on me just like I'd always been one of them.  Donna and I met when I taught the ministry wife sessions at the Jacksonville FBC Pastor's Conference back in January.  One of the things that hurts my heart the most about itinerant ministry is getting to know women just long enough to want them in your dailiness and then being forced to leave realizing you may not actually lay eyes on them in person again on this side of glory.  Seeing Donna again was a great treat and being a PW myself, I don't take it lightly that she entrusted her precious girls to me.  That's a big deal and though it sounds like cliche' and total cheese, I was and remain honored.  I explained to her that every group I meet shares a lot in common but there is always something that sticks out about each one.  Theirs was the overwhelming gift of generosity.  I ain't never (hear that in my best Southern twang) seen so many presents and door prizes and thoughtfully selected gifts from Beverly (the organizer) to all the women who supported her in the planning of the event.  I came home with a very special necklace chosen to remind me of the theme of the weekend, a suitcase full of other loot and they are shipping me a beautiful tea set they gifted me that wouldn't fit in my bags.  I can't wait to have a bonafide tea party!  Love you girls dearly.  Remember, keep your foot in the bucket! *grin*
In other news, my laptop gave up the ghost.  Apparently the video portion of my motherboard has displayed it's last.  That means the eloquently crafted post I had written on calling (I can say that now that it will never see the light of day) is now sitting on the server of the computer repair guy until I decide what to do about ordering another. Ironically, that is the first post I've typed in Word because I was trying to avoid losing it whilst using a spotty internet connection and I lost the thing anyway.  One thing to which I am not called is technology. It hates me.
What I desperately wanted to communicate on this idea of call was a mini-epiphany I experienced while working like a mad woman on a new book proposal that will be going to my beloved editor this week. (The subject?  Leah: The Buy One, Get One Sister.  More on that later!)  I was particularly discouraged one day because the words weren't coming like I wanted and I'd pretty well convinced myself that book writing was not a part of what God wanted from me or else it wouldn't be so stinking hard.  And then a thought came to me:  Calling is 5% inspiration and 95% back-breaking work.  The idea for a book for example is all unicorns and rainbows.  I needed to be reminded the writing of it – the hacking of the words and the deletion and re-writing of the same paragraph fifteen times – will most often find that unicorn exhausted and muddied and crying in the rain by the time the last edits are made.  I have to get comfortable being a dirty unicorn.
(I have no idea where that thought came from.  It wasn't a part of the original eloquence and no doubt will trigger some very interesting google search results.  For that reason alone, I'm leaving it in.)
On that day,  the one on which God was essentially telling me to suck it up, be strong, and do the dirty work, I got up from the table after typing several hours because it was time to get the kids.  I stood, looked at the book-covered table, and cried like a baby.  Not because it was time to get the kids.  Not because I had wrecked the dining room. But because it fell on me that I'd spent that time doing the thing that brings me so much joy even though I feel like tearing my brain out of my head in the midst of it.
I wonder if you are smack in the middle of something incredibly hard that requires more perseverance than you think you have and wondering if you are really called at all?  Something that was all romance at the beginning but has settled into something not very beautiful?   It could be the call to motherhood:  that swaddled baby is all ribbons and sweet-smelling lotion until it's screaming at 3 am and pooping on you for added effect.  The call to overcome the diagnosis: "I'm going to beat this thing!" feels possible until the nausea of chemo takes over.  The call to disciple: you can't wait to get into your Sunday morning bible study curriculum and share God's word until that first class when everyone is staring at you with a quizzical look in their eyes without adding a word to the discussion.  
 Take heart, my sister unicorns. Calling will make you cry.  If it doesn't, it may not be a calling at all.

March madness is on, baby, and I say that in the best possible way and also in a way that has nothing to do with basketball.  I'm talking about a crazy fun teaching schedule that has taken me from Choccolocco (love that name!) to Birmingham to Athens – all in Alabama.  I may be a Georgia girl but I love this state and have had the best time feeling like I'm finally getting to know my way around it a bit by way of her churches.  No better tour guide in my estimation!  
I don't have the first picture from Choccolocco because I am lame and forgot my camera.  My sweet friend Metha (who used to live in my town) invited me to come be a part of their first ever women's day called, "I Simply Live for You".  I was thrilled out of my mind to see Stacy and Charlotte from Ranburne (we are blog friends turned real friends) and also to learn that Debbie, that pastor's wife, and her husband used to serve in a church in my hometown in Georgia.   Debbie had invited two of her Chattanooga friends and we learned we had several common friends also.  Small world, anyone?
Last week I headed down to Gardendale Baptist to teach at the Minister's Wives Luncheon that is held during our SBC State Evangelism Conference.  The women's ministry of Gardendale did the table scapes and I fell in love with the chandeliers hanging over some of the tables they found at Hobby Lobby.  That is how unimaginative I am.  Never thought of decorating a table from the ceiling!   I'm still so mad that I don't have pictures.  Now I love talking God's Word to anyone who will pull up a chair and listen, but I don't think I have to tell you that hanging out with my sister PW's is my special affection.  I took a new friend along named Courtney.  She is a darling new pastor's wife from our association who has  two of the cutest little boys ever.  She reminds me so much of me when I was her age –  bless her heart.  And if I had a nickel for every time I said to her, "When I was your age…" I would have a pocket full of nickels.  And then it occured to me that I am old.  Dern.  But it was an altogether great day.  My DOM's wife, Patricia was also there which made the time even more special.  Love my Alabama girls!!
And then this past weekend, I drove to Athens, AL to be a part of the First UMC annual women's spring luncheon.  Oh my word, where do I begin.  The pastor's wife, Sherri, has been a blog friend for some time.  Like I told the girls that day, you can often tell the personality of the church by the personality of their leaders (bless my church's heart) and I wasn't wrong this time.  Sherri is a DYNAMO and this luncheon was perhaps one of the most over the top, Christ-centered, well-done, beautifully decorated, meticulously planned and executed events I've ever attended.  Worship was led by the group Sister Grace.  They had bongos!  And a tambourine!  And shakers!  And rhythm!  I'm hoping to be a back up tambourine player at some point. Except I have no rhythm. 
I also got to see my girl Dedra Herod (Just a Chick) who drove over and came with her  Athens friend (and now my friend) Angela.  I just love it when my blog friends jump out of my computer and into my real life.  You just can't have enough sisters.
I do have a few pictures from this one but only because I stole them off Sherri's Facebook.  You've just got to see a couple of these tables.  They were all fabulous so I'm not trying to play favorites, but I'm connected to the internet on my phone right this sec and I'm seriously doubting these pictures are going to load correctly.  Let's try it.
1.  This floral center piece had a purse, hat, and shoes purchased from a thrift store.  The brilliant designer COVERED THEM IN MOSS. Can you see these are sling back, peep toe wedges?  Have you ever?  I told the ladies I'm going to start covering old stuff in my house with moss if it can make it look this cute.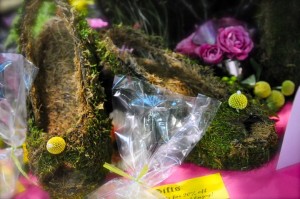 2. The tables each had names and this one was called, "This Old Thing?"  Sherri said they needed more tables than anticipated so the girl who put it together truly threw it together last minute.  Her spur-of- the-moment looks better than my planned-for-six-months.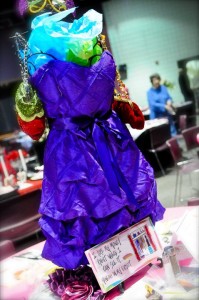 3.  The church has a knitting ministry and they presented me with a scarf/shawl that is so incredibly soft and warm.  It's my new favorite thing.  THANK YOU, ladies!  You have no idea how I treasure the time it took you to do this with me in mind!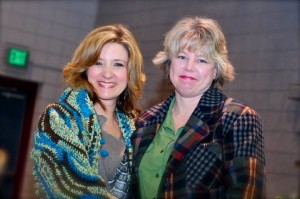 4.  First UMC has a thriving women's ministry and I'm so jealous of their merch.  That is a sin by the way.  My jealousy, not the merch.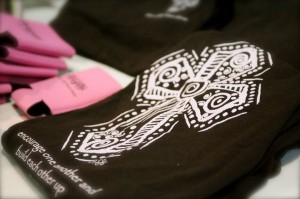 5. The Dynamo herself, Sherri. Planning this one luncheon would have put me under for 6 months and she had another breakfast event the very next day. She told me she lives from event to event. My reply? That's because it's your gift, girlfriend! If it energizes instead of sucking the life out you then you know you've found your God-given calling. That doesn't mean our God gifts don't make us physically tired but they do recharge our soul. Anyone feeling me on this one?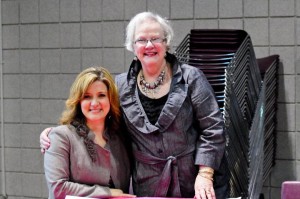 6.  This table I LOVED.  I don't have a clear pic but the silver containers were filled with vintage jewelry from the hostesses family collection.  I asked her to please not check my pockets if anything came up missing.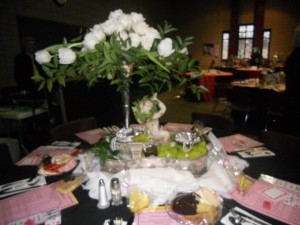 All of you girls, from Choccolocco to Birmingham to Athens, thank you.  You have no idea the part you play in what God is doing in my life.  Romans 1:11-12 speaks my heart clearly,  "I long to see you so that I may impart to you some spiritual gift to make you strong— that is, that you and I may be mutually encouraged by each other's faith."  I am full.
Praise to God and the sisterhood of faith!

Okay, so I know you thought I fell off the face of the earth but really I just slid south a state or two.  Friday I flew to Jacksonville, FL to be a part of the Jacksonville FBC Pastor's Conference.  Like I heard one of the staff say on my way out of the church today, don't ask me any hard questions because my brain is wrecked.  It's funny how purging your heart only seems to fill it right back up.  I am absolutely smitten with the pastor's wives I had the privilege to serve this weekend and won't soon get over it.     
I can't say enough about my new friend Marilyn who is the director of women's ministry.  Man, does she love Jesus and the women she serves.  She also must love (or hate) me since she was my live gps when I continued to get myself lost driving around down town. (In a Kia Soul!  You can get with this, or you can get with that!  It's my new favorite.  I was so sad to turn it back in.  Mostly because it was clean.  And my car, after 8 years and 4 kids is not.)    I also had the privilege of meeting Debbie Brunson (Mac Brunson's wife).  I am still coveting her shoe collection.  Alabama girls, you would have loved her houndstooth stilettos.  Had lunch with Lauren Chandler and was just blown away by her faith as she upholds her pastor husband as he battles cancer.  I should mention girlfriend can sang.  And play the piano.   Met adorable Alicia who works for the North American Mission Board.  She changed my life by teaching me how to use the navigation app on my phone.  Marilyn wishes she had changed it before having to talk me down every street in Jacksonville. Also got to be a part of a hysterical PW Panel on Saturday.  The best piece of advice we heard that day was from Nancy Sullivan (adored her!) but in the interest of keeping some things sacred and because I'm the biggest prude you will ever meet, I'll let that remain between us girls who were there.  You can just imagine the topic.
I know I'm leaving out so many wonderful people who were nothing but gracious.  It's an amazing thing to be behind the scenes at an event like this and see the logistics of what has to happen to pull the thing off.  I'm telling you people, you don't do all this work unless you really care about the people for whom you are working.  This church loves pastors and their families and I for one can't thank them enough for the privilege of encouraging our kind. 
So much more to say, but the plane is about to board.  And as you know, I STILL DON'T HAVE INTERNET AT HOME.  And yes, I'm freaking out about it.  Hopefully we'll be remedying that soon.  I thought I could live but alas, I can not. 
If you attended the conference, please keep in touch with me and remember CONNECT and ENDURE!!