I've absolutely loved hearing about your favorite hymns for the 'Sweet Exchange' giveaway.  (Enter until Thursday!)  I have to give y'all some props for teaching me a word I'd never heard before:  hymnody.  Seriously?  That's a word?  The first time one of you mentioned it I was impressed because I just love to make up words that sound like they should be a word even if they are not a word.  But the second time it popped up I googled it and found out it meant, "..the singing or composition of hymns."  I'll do you one better.  Did you know that one who studies hymns is called a hymnologist?  Who am I kidding..of course you did!  Y'all are so smart!  (My spell check isn't as smart as you, though.  It wants me to change those words to humanoid and hematologist respectively.)
I also asked you in that post to remind me to tell you about my brief stint as a singer/actress/hymnodian.  No one did but that isn't going to prevent me from telling you about it anyway because when a woman is fast approaching 40 and it settles on her she's half-way to dead she feels the need to relive her glories. 
The college Luke attended had a fabulous music professor and he organized a community production called Flight F-I-N-A-L.  The setting was  in an airport terminal and the only ones allowed to board the flight were those who were born again.  It's funny to recall now but I remember one of the girls (Penny!) who didn't make it through security at the Pearly Gates carried an Abercrombie and Fitch shopping bag to symbolize her worldliness.  I remember thinking, "What store is that?"  But that was during my Alfred Dunner elastic waist pants wearing days so I missed the A&F bandwagon altogether.   Thank goodness.  That bandwagon led straight to H-E-Double Hockey Sticks.  In fact, considering A&F's nekked advertisements, I think it still does.
The play was primarily a musical with few speaking parts but Dr. C asked me if I would be willing to be an angel/flight attendant that would greet the passengers on the plane.  Of course I said yes but was a little concerned about one thing:  I was 6 months pregnant.  That's some messed up theology right there.  Thankfully I had a navy, wool dress (that was so ugly as were all my clothes) that camoflauged the tummy as much as a 6 month pregnant tummy could be disguised.  So, the show would go on.  Sort of.
At the end of the play I was supposed to fade into stage left (or right? Depends on which way  you are looking at it..) for a stirring rendition of the Hallelujah Chorus.  It just so happened my final position left me standing smack in the middle of the sopranos.  If you read yesterday's post, you may remember I am not a soprano, I am a bass.  No, not an alto.  A bass.  So, my intention was to lip sync so I wouldn't appear to be an angel who couldn't get her praise on.
The play went beautifully.  Everyone remembered their parts and I remembered my lines and at the end I was overcome.  Just overcome.  So much so that I decided I wasn't going to just lip sync but that I would find my inner soprano and sing along with the rest of the people.  Did I mention I was overcome? 
My elation quickly faded as I belted out HHHHAAALEEELUUUUJAAHHHHHH in a voice that sounded like a 12-year-old boy going through puberty with strep throat and I glanced over to my left and right to see the women beside me sticking their fingers in their ears.  That is choir speak for, "WHAT IS THAT NOISE BUSTING UP ALL MY HARMONY?".  I quickly came to my senses, saw the door to the "plane" immediately behind me and decided I could make a creative exit.  Yes, I escaped stage left (right?).  Because I was a different sort of overcome.  And if I didn't get out of there right when I did I'm confident someone would have dragged me out with one of those cartoon-ish shepherd hooks a la Bugs Bunny used to forcibly remove inept performers.
It turns out this performance was my acting F-I-N-A-L-E.  Unfortunately for my stage career there isn't much call for pregnant angels who fake-or-badly-sing soprano.   No worries.  
There's always my epic bass line in "Where the Soul of Man Never Dies."   
And if that is a fail, mouthing "Watermelon" will always save the day.

One of the most fabulous things about being a minister's family is the joy of having a front row seat to the important days in the lives of our people when they are at their happiest: the birth of babies, the dedications of the same, the baptisms, the birthday parties, the graduations, and the marriages just to name a few.  (Okay, so maybe we don't have a front row seat to the birthing of babies but I'm confident you get what I'm sayin'.)  There's so much about ministry that makes us cry so when we get to smile with our peeps?  Well, it's the best. Sign us up, please.
Luke and I have had the most fun over the past few weeks spending time with two of our favorite people on this planet from a former pastorate, Josh and Johnna, for what we would like to call pre-marital counseling sessions.  In reality, we've just talked a lot of God, married life, and laughed our heads off.  Josh and Johnna are just cool.  That's all there is to it.  Josh is an avid fisherman and prone to wandering to Montana for the perfect trout.  Johnna is drop-dead gorgeous, doesn't need one bit of makeup to look that way, and is as stunning in her Teva's as she is her heels.  They've been dating 7 years and have honored God in their relationship.  They give me hope for my own kids that there is still a remnant of that generation whose goal in life is following hard after Christ and glorifying Him through their marriage.  Also, did I mention how cool they are? 
During pre-marital counseling, Luke will at some point address the particulars of the ceremony like The Vows and What The Bride Wants Him to Wear.  You know, the important stuff.  It was in this part of the conversation the other night when Luke asked Josh what color cumberbund he would be wearing.
*Silence*
Now, let me first clarify that I am not cool. Much. However, I knew the cumberbund thing had been out for a good 3 years.  And I would have given cash money to have had a photo of the first looks on Josh and Johnna's face when Luke asked the question.  The expressions morphed from, "Oh, bless his heart.  Let's not tell him those went out of style with his mullet.." to hysteria when I suggested I would wear a matching prom dress and we could have the first dance to Chaka Khan or Bryan Adams.  
It was during all the laughing that I looked at Luke and realized Reason #4022 that I love him so much is that is absolutely does not care if he is likened to James Dean or Mr. Rogers.  Sure, it's nice to be cool but even more attractive when you don't have to be.  And as for marriage, there is nothing more secure than settling in with a man who is confident, steady, predictable, and who isn't likely to hit some freak-show mid-life crisis in fear he's losing his youthful appeal.  So my advice to you darlin' girls who are still waiting for Mr. Right?  Make sure he's a dork.  My man is.
(And just maybe his woman is, too?)
But I wouldn't have him any other way.
(And vice versa, I'm sure.)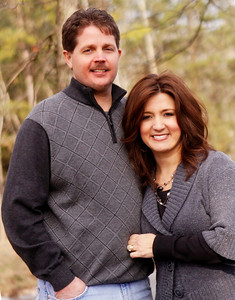 By virtue of being a pastor's wife I'm often asked how my church is going.  I've alluded here to a difficult season my congregation has been going through and so I'm asked a little more often than usual by people that are well-meaning, I'm sure.  My answer?  It is thriving.  It is being refined by fire.  It is persevering through trial and is flat out meeting the needs of people both evangelically and relationally. Our church, God's church,  is going wonderfully.
Since December, Luke (my husband) has been teaching through Luke (the gospel).  We are about to finish chapter 13.  For those who feel this pace is rather tedious, well, it is.  And that is precisely how a thorough examination of the scriptures should be. There are no PowerPoint presentations.  No catchy graphics to package the series.  No fill-in-the-blank outlines.  Luke (the hubby and the doctor) has/have been bringing it old school with powerful, Bible-based preaching and I've never loved a season of teaching more – especially all the times it has banged me up and left me feeling horribly exposed.  I am biased towards this man but I of all people know him well enough to comprehend that he hasn't come up with all this stuff on his own.  I love to brag on him but I don't do it to convince anyone of his merit as a pastor/teacher or the faithfulness of his walk before the Lord.  The only commendation that matters comes from God alone and at the end of the day, that's enough.  And again I confidently say:  It is enough.
It's no accident that the Holy Spirit has orchestrated the timing of many of the Luke (the gospel) sermons to be absolutely relevant to what individuals are facing personally and what our church has been experiencing corporately.  The lessons have run the gamut on prayer, unity, forgiveness, repentance, anxiety, faith, and most recently hypocrisy.  Hear me loud and clear when I say it, we have to be in the Word to get a word.  What we miss when we don't open our Bibles every day to see what God would speak over our calamity! What we miss when we don't present ourselves in the sanctuary to bring sacrifice and to join in worship alongside our Christian brothers and sisters!  We have a seriously flawed view of the church if we see it as an institution meant to serve us up a big enough dose of goosebumps to get us through until the following week or just to serve us period.  It's much more than that. It's a place we give to, not take from though – if we are contributing faithfully –  she never fails to bless in return.  Church is safety.  It is community.  It is family.   
What else is the church?  She is a place of offering.  Of receiving marching orders and encouragement on how to navigate the waters of uncertainty and the earthquakes of circumstance.   It is a place where our gifts are made manifest in order to glorify a God whom the heavens can not hold and yet who condescends to meet with us when we come together in His Name.  It is a place of stability when our steps are uncertain.  A place of forgiveness when we've failed.  It is a place of communion and friendships and holding one another up when we can't do the job alone.  I am so proud of the church we serve because she has a genuine love and affection for people and I've never seen a need made known yet that she hasn't sought to satisfy in what ways she could. 
Does the church have its share of hypocrites?  Sure.  But in the words of one of my favorite preachers, "Don't let that stop you from coming – there's always room for one more."     Do church people blow it?  Absolutely.  But in the words of another, "The cashier at Walmart ticks you off too but you keep going back."  Do church people miss it?  You can count on it.  But maybe it's because they just didn't know.   I love the lyric of the song Lean on Me that says,  "no one can fill, those of your needs, that you won't let show."  Are there any among you who are hurt or disappointed?  Try telling someone and inviting them into the situation so they can be the help you need.
Luke and I have been praying like mad that the Lord would redeem much heart ache by wrecking us all.  Humbling us.  Reviving us.  Do you want to know how I know it is working?  Because Satan is prowling and he is devouring testimonies and he's doing it in on a healthy dose of steroids.  He's selling the lie that shrinking back from difficulty is the answer.  God help us if we buy it.  But do you know what else is happening?  Our God who neither slumbers nor sleeps is in overdrive as well.  He is wooing.  He is engaging.  He is strengthening.  He is resolving.  He is revitalizing.  He is re-focusing.  He is saving.  In fact, this past Sunday Luke had the honor of baptizing Sam, a precious man who had asked the Lord for mercy at our altar the previous week.  I've watched our church embrace him as if he had always been a part though he'd only recently begun attending.  He hasn't wiped the smile off his face since that day.  Neither have we. 
So how's our church?  She's beautiful.
Thanks for asking.
How is yours?